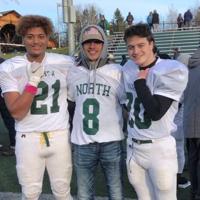 Franklin County Seniors Participate in North-South Football Game | Sports
Senior high school football players from across the state met at Castleton University's Dave Walk Stadium on Sunday, November 20 for the 2021 North/South All-Star Football Game. The South team held a lead of 26-21 at halftime and won the match 39-35.
BFA St. Albans athletes Cole Montagne (injured), Justin Brown and Dakota Wry; BFA Fairfax/LU athletes Ryan Goodman, Kenny Salls, Nick Bidwell and Brody Hamel; and Harley Vorce of MVU were named to the Franklin County High School Programs Team.
BFA Fairfax/LU Head Coach Craig Sleeman led the North team.
"It was a good home and away game, and it was very entertaining. Everyone played well and played hard. The teams were evenly matched and we had a good group of kids," Sleeman said.
"It's fun coaching kids you hear about in the papers. It was good knowing athletes like Dakota Wry; he was able to carry the ball a few times and fit in really well."
The Essex High School and Champlain Valley Union players met on the field for practice the day after Essex lost to CVU in the 2021 D1 Football State Championship on Saturday, November 13.
"Players respect their opponents throughout the year, and you quickly put your grudges aside when you're up against a common enemy," Sleeman said. "They're starting to do well with each other."
The team ran two offenses and two defenses; this year, the North implemented a 4/3 defense, a spread offense and Sleeman's offense focused on the running game.
"An all-star game is amazing because the amount of stuff you can put together in three or four days of practice is awesome," Sleeman said.
Playing at Castleton is a memorable experience for athletes and coaches.
"You have 88 kids playing for their families, friends and teammates," Sleeman said. "It's nice to play in front of a full crowd in a nice venue like this."
Sleeman enjoys spending time with the players; it's also a good time to connect with other coaches.
"I have a lot of connections with the coaches who coached the North team with me – my two assistants Jeff Hamel and Dylan Lumbra, and Cooper Bushey, who played his first two years for me at Milton and then at Castleton; he's now coach at U32," Sleeman said.
As for scoring, Sleeman pointed to the efforts of several players from the North.
"Amari Frazier (Burlington/South Burlington) had two touchdowns for us, Collin Mathis (Milton) grabbed the ball and ran for a 68-yard touchdown, and Adam Mansfield (Mt. Abraham) kicked the extra five points" , Sleeman said.
"My offensive line was great; they loved running the ball and enjoyed it."
When asked for words of wisdom for young players hoping to secure a place on the North/South game in the future, Sleeman answered to the point: "Work hard, be successful in your team and focus on the versatility on the court," Sleeman said.
"It's an honor to be part of the team, but not everyone plays in their usual position, so be versatile – attack, defense and special teams."
And while Sleeman still wants to win, he recognizes the other victories that come with the All-Star Game.
"It's an opportunity to play a great game, to raise money for the National Football Foundation for student-athlete scholarships," Sleeman said, "And it's a great opportunity to play a game with athletes you may not have known before the game."
Did you know? Much is spent on using the venues for the North/South star football game. Host venues donate time and resources for practices and matches.