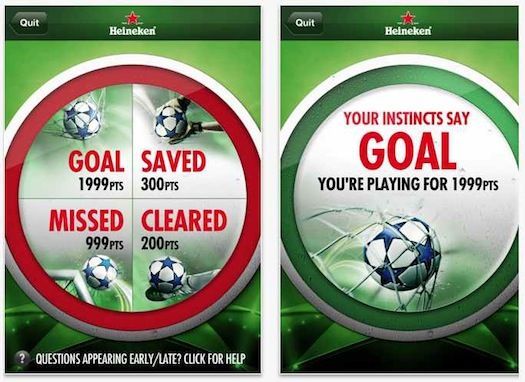 Heineken launches StarPlayer football app
Beer maker Heineken has rolled out new iOS and Facebook that allows football fans to predict the outcome of UEFA Champions League matches in real time.
StarPlayer is available free of charge from the Apple App Store for iPhone and iPod Touch and is also accessible via the Heineken Facebook page.
The game allows football fans to predict scores and other events while watching it on TV. Players earn points for each correct prediction during the game and they are also allowed to answer trivia questions to earn extra points.
The company is one of the first brands to offer a "dual screen" promotional app game. According to Heineken, 75 percent of viewers are double-watched all the time and about 72 percent watch UCL alone at home.
The StarPlayer also allows players to compete in head-to-head games and post their points on the social networking platform Facebook. Players are also allowed to comment on posts.
"For Heineken, being able to bring the excitement and competition of these premium matches to the fingertips of fans through Star Player's cutting-edge 'dual-screen' technology truly shows our commitment to delivering extraordinary, innovative and engaging experiences. to the fans. Floris Cobelens, global digital manager at Heineken, said in a statement reported by Marketing Magazine.